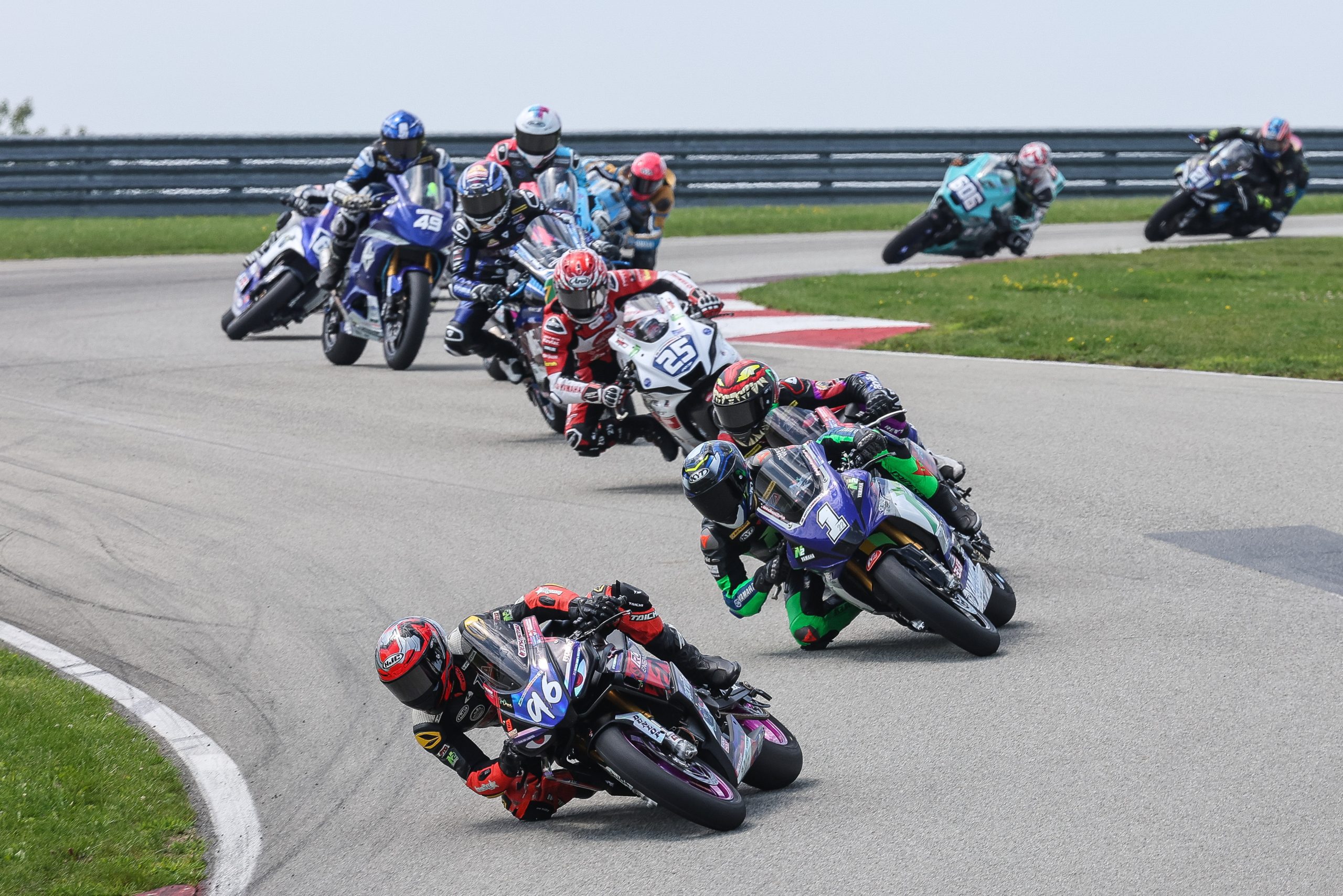 The top three contenders in the REV'IT! Twins Cup Championship are locked in a close battle for the title, and those three contenders were also locked in a close battle for the race win on Sunday at Pitt Race.

Rodio Racing – Powered by Robem Engineering teammates Gus Rodio and Rocco Landers not only raced hard against each other, but they also raced hard against N2 Racing/BobbleHeadMoto's Blake Davis throughout the nine-lap event. Davis led seven of the laps, while Landers only led one lap and Rodio led the other. But it was Rodio who led the most important one, which resulted in him crossing the finish line first and notching the win by just .104 of a second over his teammate Landers. Davis almost finished as runner-up, but he couldn't quite overtake Landers when the checkered flag flew.

Rodio goes into the final round at New Jersey Motorsports Park with an eight-point lead over Davis and a 14-point lead over Landers, which means that the season championship is very much up in the air with just two more races to go.

"I knew me and Blake had power," Rodio said. "I knew Rocco was taking those wide, sweeping lines. From the looks of it, I didn't want to get tangled up in that. I just sat back. I was kind of resting the whole race and the pace in the 49s. We qualified a lot faster than that. There were just five passes a lap, so that's where that time is going to come into play. I knew Blake was going to pass him on the straight. He's good on the brakes, too, so down in the chicane, I saw him making moves there. I knew he wasn't going to let Rocco lead a full lap because it would have been not good. So, I just sat back. Knew the passes were coming. Knew the pace was going to stay in the 49s. I just planned for the last lap. Blake made a mistake and then I knew coming to the line I just had to make the pass. I had to stay close enough to make the pass. Everything went according to plan."
Supersport – Great Scott
Although there is little doubt that Warhorse HSBK Racing Ducati NYC's Xavi Forés will be crowned as the 2023 MotoAmerica Supersport Champion, Vision Wheel M4 ECSTAR Suzuki's Tyler Scott didn't allow it to happen at Pitt Race on Sunday.
In order for Forés to be crowned on Sunday, he had to win with Scott finishing no worse than second. Scott, however, decided to just go ahead and win the race to make sure that the war would go to the next round of the championship at Circuit of The Americas next month.
Scott ended up beating Forés by 2.8 seconds after an early back-and-forth battle. Tytlers Cycle Racing's Stefano Mesa, who won Saturday's Supersport race one, was third, 7.8 seconds adrift of Scott and five seconds clear of Scott's teammate Teagg Hobbs, who got the better of Squid Hunter Racing's Josh Hayes.
Disrupt Racing's Jake Lewis ended up sixth, hot on Hayes's heels.
"Yesterday I got a decent start the first time, starting from the second row on the grid," Scott said. "Couldn't get a clear lap in qualifying, so right off the bat it was hard to lead the race and try and set the pace. Overnight we thought about it. This morning we made some changes to be able to push the pace. In the race today, I got a pretty similar start to yesterday, but I saw an opening to pass Xavi (Forés) and I took it. I wanted to see if I could lead the race and start pulling a gap. It was .0 for what felt like an eternity, and then .2, .4, .6, one second, one second, one second, two seconds. I just kept pushing the pace every lap and was able to create that gap."
Junior Cup – Moor DQ'd. Dreher Crowned
Bad Boy Racing's Avery Dreher won his sixth race of the season on Sunday at Pitt Race, but he didn't know that he'd also been crowned as the 2023 MotoAmerica Junior Cup Championship. That decision came later when Fairium NGRT – Gray Area Racing's Rossi Moor was later DQ'd for using an illegal wheel bearing on his KTM RC 390 R ending any chance of Dreher being surpassed in the final round at New Jersey Motorsports Park next month.
Altus Motorsports' Alessandro Di Mario was second on the track and second in the final results while Bicknese Racing's Hayden Bicknese was moved from fourth to third in the final standings after Moor's DQ. Yandel Racing's Yandel Medina was fourth with Badie Racing's Levi Badie rounding out the top five.
Dreher is now 52 points head of Bicknese in the title chase with just 50 points on the table in the final round.
"It worked yesterday, so I just figured I'd go with the same strategy today," Dreher said. "The team and I worked on a few things this morning with the bike. Got that sorted out. I knew it would be a little hotter today than yesterday. Our race was three hours later, so I knew that would play a factor. Lost the grip on the rear on the last lap. Thought I would lose the draft on the front straightaway but ended up pulling it together. I'm just super happy with the results this weekend. I don't know how many points I have left to clinch the title, but I'm just going to keep working hard between rounds and hopefully get that jersey."
Royal Enfield Build. Train. Race – Perfect Moore
The Royal Enfield Build. Train. Race. program wrapped up its second year with MotoAmerica on Sunday, and Mikayla Moore completed a perfect season. The Maryland-based rider clinched the championship with her win in Saturday's race one, and her race two victory on Sunday was her seventh win in as many races. Moore won Sunday's race by nearly 11 seconds over second-place finisher Sonya Lloyd, who in turn was a little over nine seconds ahead of Crystal Martinez in third place.

The finishing order of race two was also the finishing order of the season championship with Lloyd finishing second to title winner Moore and Martinez locking up third.

"With this being our last race, I wanted to see how fast I could actually take it. Being by myself yesterday, only hitting (a lap of) 2:08, I was experiencing chatter and some other bike issues. So, when Sonya showed me that wheel yesterday, I was like, 'All right. Come tomorrow, she's going to be on top of her game.' So, Megan (from Öhlins) was able to fix some issues with the bike for me in terms of suspension. I ended up making a gearing change, and that definitely helped for this race."
Mission Mini Cup By Motul – Gouker Again
Three Mission Mini Cup Presented By Motul races were held on Saturday evening at the Pitt Race karting track and they were again mostly dominated by the same riders as on Friday.
Stadler America's Nathan Gouker continued his hot hand in the Ohvale 160 class with his seventh straight win in the championship to build his points lead to 40 points over Madd Will Racing's Kruz Maddison, who was fourth, second and fourth in the three races on Saturday. American Racing's Connor Raymond, meanwhile, was second best to Gouker in two of the three races.
The Ohvale 190 class featured three different winners in the three races on Saturday with American Racing's Joshua Raymond, Historic GP's Mahdi Salem and Alpha Omega's Ryder Davis all coming away with victories. Davis, however, is still the points leader with a 23-point lead over Salem, 156-133.
In Stock class action, Cruise Texter won all three Stock 50 races on his Cory Texter Racing/Roof Systems-backed Honda.
There were three different winners in the three Stock 110 classes – Varnes Racing's Cole Varnes, Xtreme Autoglass Pros' Jacob Davis and Ryan Clark Racing's Ryan Clark, who leads the title chase by 24 points. Jacobsen Motorcycle Training/Bettencourt Racing's Nathan Bettencourt kept his perfect 2023 record intact with his 10th, 11th and 12th straight wins in the Stock 125 class.